Offices at The London
Enough space to have your own space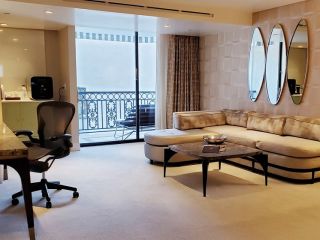 For companies facing the challenge of bringing employees back into open plan / shared-space work environments, The London West Hollywood at Beverly Hills is offering a unique solution: Offices at The London. A minimum of 725 square feet of space can be subdivided into two or more discreet work areas while respecting social distancing guidelines.

Private balconies provide access to fresh air and sunshine. All suites offer a private bathroom, wet bar, mini-refrigerator and comfortable sofas, making these some of the most luxurious office spaces in Los Angeles.

In addition, The London's Executive Chef Anthony Keene has developed a new 'Commissary' menu: order, grab and go (or enjoy in-room delivery with applicable service fee.)

Offices at The London are available for occupancy starting June 1st. Rents start at $6.90 per square foot on a monthly basis (minimum rental $5,000 per month for a standard London Suite with no bed.) Larger suite offices, ranging from 1,250 to 1,975 square feet are also available for rent/lease.
Terms & Conditions:
Offices must be rented for a minimum of 30 days and will be auto renewed after the first 30 days unless advance notice of 7 business days is provided. Offices with a signed rental agreement of 30+ days or more qualify for tax exempt status. Credit must be pre-approved by hotel's Director of Finance prior to occupancy. Renter agrees no alterations or renovations may be made to the room, wall or window coverings, carpet, paint, etc. without prior written permission of the Hotel. Hotel reserves the right to approve or refuse any changes, renter agrees to pay for any and all repairs or costs required to restore the room/suite to its original condition.
Hotel to provide:
Converted guest room (bedframe and mattress removed)

Existing work desk, chair, wall mounted television and furniture to remain in place (unless client requests removal, in which case moving and storage fees will apply)

All utilities (power, water, HVAC, internet)

High speed internet access (both wired and wireless)

Limited janitorial service (vacuuming, replenishment of paper towels in bathroom)

Secure, on-premises valet parking is available at an additional monthly rate of $300 per vehicle
Inquiries:
Offices at The London
5 photos